WIR WÜNSCHEN
IHNEN FROHE FESTTAGE
REISEGRÖSSE
DAS PERFEKTE GESCHENK
REISEGRÖSSE
KAUFEN SIE 2, BEKOMMEN SIE 3!
Die Festtage nahen: Es ist Zeit, an Ihre Weihnachtsgeschenke zu denken.
Unsere Reise-Düfte sind der perfekte Weg, um unsere Kollektion zu entdecken. Sie sind wie eine Einladung zu einer Reise ohne Bewegung, bei der jeder Zentimeter Ihrer Haut eine neue Grenze darstellt, die dazu bestimmt ist, einen neuen Duft zu offenbaren.
Ob für Freunde, Familie oder zum persönlichen Verwöhnen – sie sind das perfekte Geschenk.
Exklusives Dufterlebnis
Limitierte Auflage
Exklusives Dufterlebnis
Jardins de Misfah
Limitierte Auflage
Das Set enthält eine 100 ml Flasche von Jardins de Misfah + vier 5 ml Fläschchen der Duftnoten, die den Parfüm zusammensetzen. Es handelt sich um eine nummerierte, limitierte Auflage von nur 100 Exemplaren.
Erleben Sie eine einzigartige olfaktorische Reise, indem Sie 'Jardins de Misfah' aus einem neuen Blickwinkel entdecken und den Duft Note für Note dekonstruieren.Tauchen Sie ein in den kreativen Prozess eines Parfümeurs und entdecken Sie, wie jede einzelne Note kunstvoll gemischt wird, um einen originellen Duft zu kreieren.
PERSÖNLICHE NOTE:
Um das ursprüngliche 'Jardins de Misfah' nach Ihrem Geschmack für einen würzigeren, süßeren oder blumigeren Duft anzupassen, kombinieren Sie es einfach mit einem der vier zusätzlichen Akkordsprays, um Ihre gewünschte Facette zu verstärken.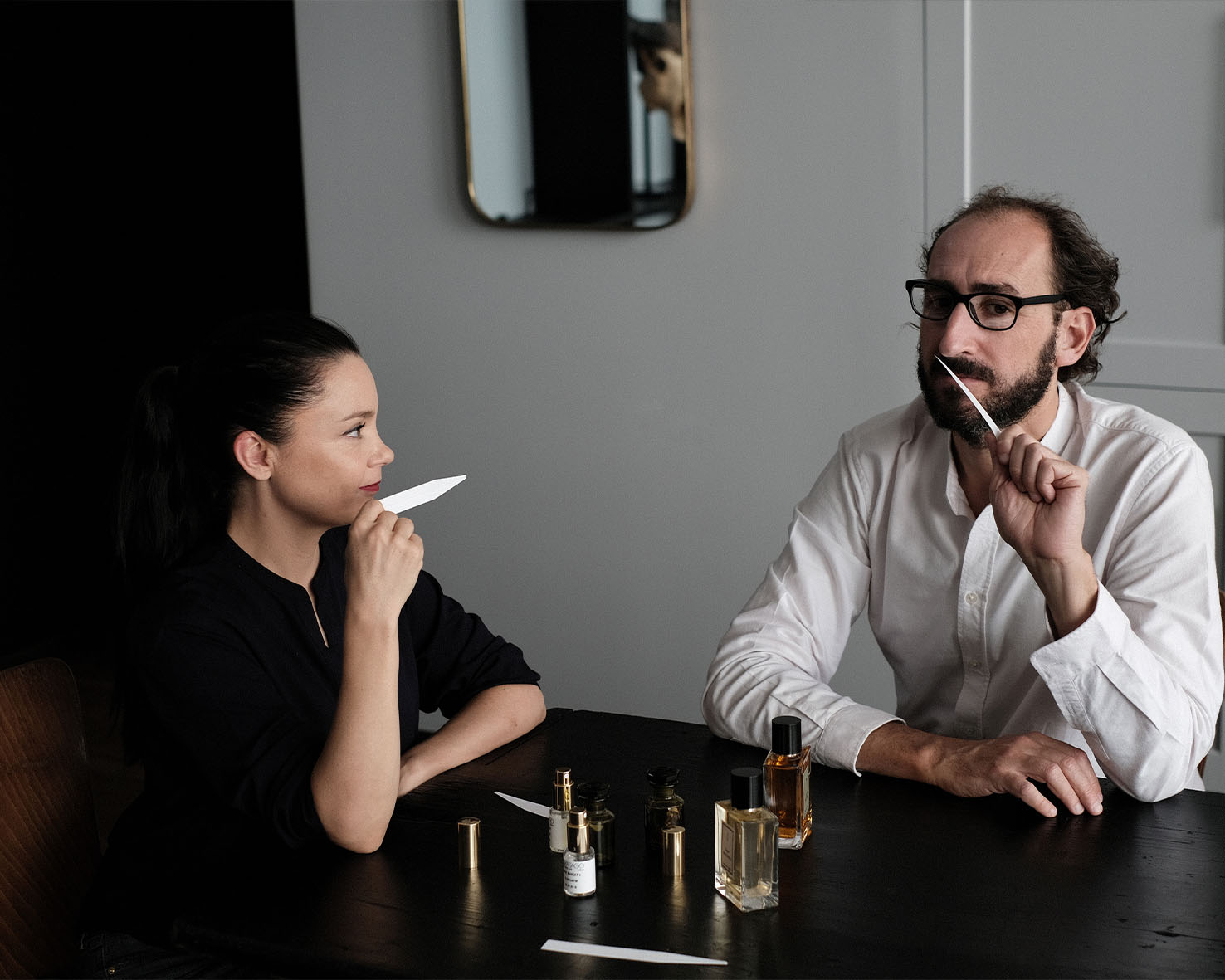 MEET
ALEXANDRA & PHILIPPE
Alexandra and Philippe collaborated at Universal Music, where Alexandra served as Artistic Director and Philippe as Marketing Director. They wanted to go to other places, explore other passions, become independent, create differently. They meet up to talk about travel, poetry, spirituality, nature, and a willingness to build something with sincerity and ethics.
After leaving Universal, Philippe trained in the practice of Shiatsu, a Japanese energy massage technique inspired by the benefits of Chinese medicine. A venture into the Asian heritage that still fascinates him.
For Alexandra, travel is more than just a need to explore, it is a philosophy of life. Always off the beaten path, she travels the world and its continents. At the age of 20, she puts on a backpack and sets off in search of breathtaking places where hotels are imbued with discreet luxury.
By imagining 'Une Nuit Nomade', they convey their desire for French elegance, storytelling, and a love of changing landscapes. It is a call to live a unique sensory experience. An olfactory approach to the world where nature and luxury are inseparable.